Regular price
Sale price
£10.00 GBP
Unit price
per
Sale
Sold out
International shipping: tax and customs charges are not included in the price. Please read our shippping policy.
Share
Shrove Tuesday shenanigans and other wild games - how to play, where to watch, and what these hardy rituals tell us about modern football and its festive roots. Guaranteed: mud, sweat and plenty of beers...
Never the mind the millionaire mercenaries of the Premiership. Forget the hype, the hysteria and the hullabaloo of the so-called 'beautiful game'. All over Britain, from Cornwall to Kirkwall, from Dorset to the Borders, in cobbled streets, muddy fields, icy brooks and moonlit harbours, the centuries-old traditions of mass participation, festival football are today alive and kicking.
Quite a sight these games are too. The balls come in all shapes and sizes. There is no limit on the number of players. Anyone can watch. In fact at any time spectators may become players, and players become spectators. Sounds anarchic? Not at all. There may be no rules written down, there may be no pitch markings and rarely any time limits, but there are rules all the same, handed down orally from generation to generation. Rituals too, plus many a tale of derring-do.
As is well known, Association football, aka 'soccer', is the world's most popular sport. Its rules were drawn up in England between the 1840s and 1860s, largely at the behest of ex public school and university players. Rugby divided from the Association in the 1870s. But while all this was happening, Britain's festival games played on - a close cousin of the modern codes, yet different in so many ways. Their origins may be traced back to at least the 12th century, when rival groups of apprentices would play an early form of mob football on holy days. In 1800, it is estimated, there were over 70 such games played in British towns and villages on Shrove Tuesday alone. Today, spread across various dates in the calendar - Shrove Tuesday, Christmas Day, New Year's Day and Good Friday - 15 games survive, including some weird and wonderful versions in English public schools, such as Eton, Harrow and Winchester.
Author Hugh Hornby - a former curator at the National Football Museum in Preston - has spent five years travelling around Britain, attending these games. Few historians are so steeped in football lore as is Hornby. No football historian is as steeped in mud.
Combining in-depth history, explanations of the rituals, superb action and archive photography and detailed maps, Uppies and Downies is the first book to provide a guide to these wild and wonderful games, so that readers may know where and when to see them, and, best of all, how to work out what on earth is going on!
Listen to Hugh Hornby's podcast and read a review of Uppies and Downies on The Global Game.
View full details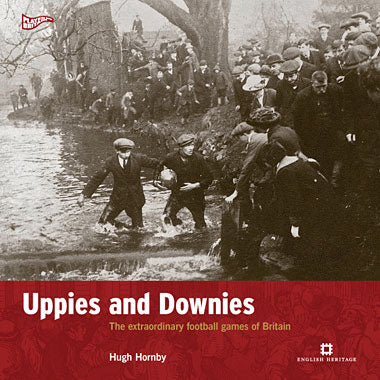 REDUCE

To help you reduce the use of non-reusable carrier bags, NFM offers you a wide range of tote bags made from eco-cotton and other recycled materials

NFM Eco bags

REUSE

We're minimising the amount of waste from our exhibitions by recycling the banners and transforming them into stylish bags and pencil cases

Recycled banner pencil cases

RECYCLE

NFM Shop has a wide range of museum branded items made from recycled plastic, receipts and using sustainably sourced materials

ECO Collection